2020 Award Nomination Process is Now Open
Submit an online nomination here or by downloading the print version from attachment below and returning the completed form to the Bowling Green or Walbridge Libraries or to the WCDPL Bookmobile. 
Print copies of the nomination form may also be picked up from any WCDPL public service desk and the Bookmobile.
Nomination deadline for 2020 John M. Gibson Award is Monday, March 2.
The 2020 Award will be presented Thursday, April 23 at the annual Staff Appreciation Breakfast hosted by the Friends of the Library.
Please direct questions to Michael Penrod, Director, 419-352-5104.
John M. Gibson Award History
The John M. Gibson Award was initiated by the library's Board of Trustees in 2005 to recognize excellence in customer service by WCDPL staff. Since then it has been presented annually by the Trustees, who select the recipient from nominations submitted by both library users and WCDPL staff members themselves. Any WCDPL employee (with the exceptions of the library director and assistant director) may be nominated for the Gibson award.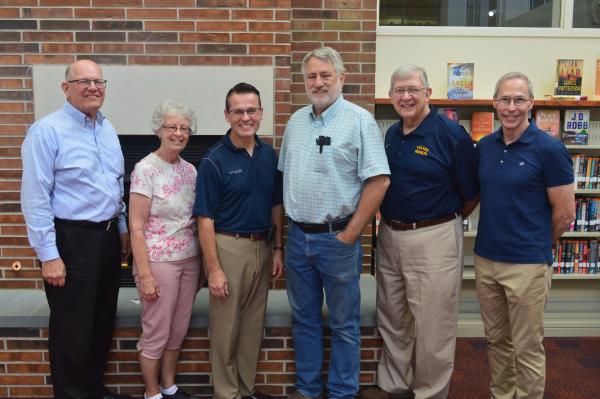 Pictured from left: Trustees Ken Frisch, Ellen Dalton, Brian Paskvan (President); 2019 Gibson recipient Kevin Puffer; Trustees Chet Marcin & John Fawcett.
The award was named after the late John M. Gibson in honor of his contributions to the library and his integral role in the library's 2003 renovation. The award recipient and all nominees will be recognized by the Library Board of Trustees annually during National Library Week.
Past recipients of the Gibson Award are: Mandy Hackley ('05); Mary Callahan Boone ('06); AJ Heilman & Donna Mertz ('07); Deb Born ('08); Kristin Wetzel ('09); Linda Conrad ('10) Maria Simon ('11); Nancy Weiland ('12); Katherine Lawn ('13); Anne Render ('14); Matt Mehling ('15); Victoria (Vicki) Forgette Scanlan ('16);Tara Bahnsen ('17); JJ Hofner ('18); and Kevin Puffer (2019).
While the official review of nominations takes place approximately one month prior to the Gibson Award, nominations may be made at any time in person at WCDPL in Bowling Green, the Walbridge Branch Library, or from the Bookmobile of by using this online nomination form.