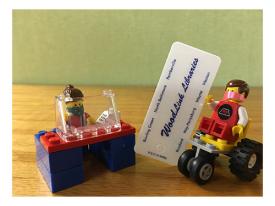 What's more awesome than FREE movies, books, audiobooks, magazines, and much more? You don't need to pay monthly subscription fees when you have a library card! A library card gives you access to thousands and thousands of audiobooks, digital books, movies, music, picture books, and bestselling novels.
Join the awesomeness that is your public library this September by getting your own library card during Library Card Sign-Up Month.
Each person who signs up for a library card this September receives a small welcome gift.
Each person who signs up for a library card this September can also enter the drawing for a Friends of the Library book bag and a 1-year membership, or a big bunny toy. Sorry big people, big bunny drawing is for kids only.
Already have a library card?  Show your library card and receive an "I Love My Library" cling for your car while supplies last.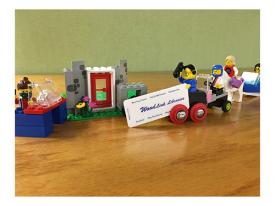 Take your library card on an awesome Lego adventure in September and share the photos on our Facebook page. (Just make sure your library card number doesn't show.) These Lego people are using curbside service at the library.
This year, while so many are learning or working from home, access to free digital materials and to traditional library materials is extra important.  Want a card right now? Apply online for a temporary card at Get a Temporary Library Account. Then on your next visit to the library, come inside and update your temporary card and enter the drawings.
See details on how library cards work here, Get a Library Card.