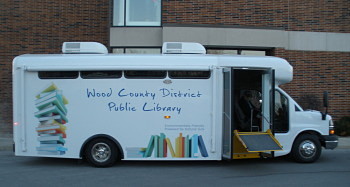 How does the pandemic affect the operation of the Bookmobile?
The Bookmobile is off the road for the foreseeable future, since there is no way to observe safe social distancing, to wash hands, or maintain effective cleaning and sanitizing of its interior.
Instead, we offer Home Delivery: 
Contactless delivery and pickup of materials to your door.
Ideal for patrons in Bowling Green or Walbridge city limits, or our service district. 
Ask for specific items, or let us match selections based on your preferences.
To request Delivery Service, call the bookmobile office at 419-352-5104 ext. 221 or email Bookmobile@wcdpl.org for more information.
What if I still have items checked out from the Bookmobile before it went off the road?
Return any library materials borrowed directly from the Bookmobile to the nearest, convenient Wood County library.
If you are unable to return your items to a library book drop, call the Bookmobile Office at 419-352-5104 ext. 221 or email Bookmobile@wcdpl.org.
---
Bookmobile: Brief History and Services
WCDPL has provided Bookmobile service to Wood County since 1951. The current Bookmobile was purchased through funds provided by a State Library of Ohio grant and privately raised funds. This vehicle runs on compressed natural gas (CNG) an abundant, low-cost, green alternative to gasoline or diesel.
The Bookmobile is a full-service mobile library, providing a wide range of materials and services to local communities, including outreach services to area agencies, organizations, and institutions and homebound individuals.
The Bookmobile offers:
Library card sign-up
Books, for children and adults, including Spanish language materials
Large Print materials
Popular magazines
Popular DVDs
Audio books
eBooks
Storytimes
If you have questions, want to request specific materials, or if your organization or community is interested in hosting the Bookmobile, please call us at 419-352-5104 ext. 221 or send an email to Bookmobile@wcdpl.org.
The Bookmobile visits areas within the library's legal service district, shown in the downloadable "Service District map" pdf attached at the bottom of the screen.
The Bookmobile's Stops Schedule is shown in the calendar immediately below, and in a downloadable pdf also attached below.
Neither reservations nor advance sign-up is necessary at community stops: all you need to use the bookmobile is a valid library card. 
Watch for special events and appearances by the Bookmobile in this calendar and in the library's weekly newsletter.
On rare occasions, this schedule may be subject to change without notice due to weather, traffic, or mechanical difficulties.