1000 Books Before Kindergarten
Families with young children, infants through preschool, are encouraged to register their children for the 1000 Books Before Kindergarten Reading Challenge! Every child participating in the program will receive a free picture book as a registration prize. The Frisch Family Fund is a generous sponsor of this early literacy challenge. Registration can be done throughout the year, in person at the library as well as online. The challenge is to reach 1000 Books Before Kindergarten. 
Studies have shown that reading with your child provides many opportunities to bond and develop strong attachments.  Reading together is fun and will create life-long memories.  Experts agree that children who learn the necessary skills early do better in school and later in life.  Participating in 1000 Books Before Kindergarten program can help put your child on the right track.
All books count.  Library books, personal books from home, books read at storytime, at school or with a caregiver, sibling, or a grandparent – even through a Skype or Facetime virtual visit count.  The library will recognize children with award stickers at every 100 books logged, and at 500 books, children will select a book from the library collection to have their name designated on a bookplate commemorating their achievement.  At 1000 books, young children will be designated a Royal Reader with a photo, their names added to the Golden Scroll, and they will be awarded another gift book.  Each year the library will recognize participants with an annual celebration.
Books for Babies at the Wood County Hospital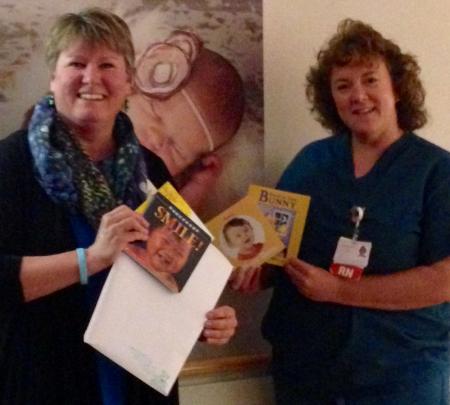 The Friends of the Library generously support a gift book for babies born at the Wood County Hospital.

Dolly Parton's Imagination Library in Wood County
No cost to families
Each child from birth to age 5 receives an age-appropriate book each month.
Almost 4,000 children in Wood County registered
In partnership with the Ohio Governor's Imagination Library and the seven independent public library systems in Wood County, WCDPL is proud to support Dolly Parton's Imagination Library in Wood County. 
The program mails every child from birth through age five a free, age-appropriate book every month until they turn five years old. Enroll the children in your life today to begin getting free books and to inspire the love of reading from a young age.
There is no cost for a child or family to participate.  "The seven libraries are pleased to provide the initial $30,195 needed to get the project started," said Penrod.  "The libraries will also assist with program promotion and registration."
Program costs are covered by a 50% match from the Ohio Governor's Imagination Library program and 50% in locally provided funds.  Each library of the county's seven libraries contributed to the project based on the population in their legal service district. The seven libraries that worked together to provide local funds are the North Baltimore Public Library, Pemberville Public Library, Rossford Public Library, Way Public Library in Perrysburg, Wayne Public Library, Weston Public Library, and the Wood County District Public Library in Bowling Green.
Entertainment icon and savvy businesswoman Dolly Parton founded the Imagination Library in 1995. She was inspired by her father's inability to read or write and in hopes of inspiring a love of reading and learning from a young age. The program has received the Best Practices Award from The Library Of Congress Literacy Awards, and in 2016 the program celebrated the "One Million A Month" milestone for books mailed to children across the world.
Additional Early Literacy Resources: